Happy St. Patty's Day to all....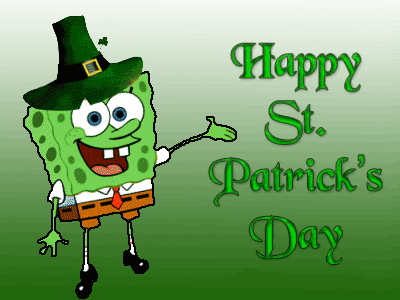 Hey everyone....Happy St. Patrick's Day! I took the day off work...why? Because I consider it my nation's holiday. I am a redhead with pale skin that won't tan...and freakles all over in the summer time. So, yeah...to say I am Irish is an understatement.
If you live near a Stewart's and happen to be wearing green today...stop by and get a FREE SCOOP of ice cream. I wish I was eating ice cream, but not quite yet....but soon. Next year, I will get my free scoop. Heck...maybe next year I will go to every Stewart's in town...which would easily be over 10. j/k
I took a quick run over to my dad's this morning....3 miles...and then we went and bought some green carnations and headed over to my mom's grave marker and put them on the stone. She always loved St. Patty's Day and being Irish. She wore a claddagh ring for years and years...which I now own and only wear is seldomly because I am terrified of losing it. So, I hope she likes the flowers.
And now...I am heading out to go to the video store and then do some shopping...looking to see if the sales are any good for some pants, etc. If not...I'll keep looking.
Enjoy the day...even if you aren't Irish...pretend you are!
Labels: $$$$, family, food, holidays, mom, running, shopping