Happy Easter and Happy Opening Day!!
Hello world...well, isn't there a lot to celebrate today. It's Easter...and it's the first game of the 2010 Baseball Season...Red Sox...verses....Yankees.
Easter, ahh...I hate to break it to you, but well...I am pretty sure I am more excited about Opening Day or rather Opening Night this year. No offense Jesus, but well...there is Fenway Park, there is a mound, Joshie Beckett is on it. I can't contain my excitement...as I sit here in my Beckett Sox t-shirt.
All kidding aside...church was really cool this morning. Of course, church on Easter always is full of tons of people that never come to church any other time. They make their two visits a year...Easter and Christmas. For years, I never went on Easter...I got all wrapped up in the hypocrisy of it all. But, a couple of years ago...I went and realized I was missing out on a really beautiful service. Plus, I adoringly LOVE my church community...so spending the morning with them was really nice. It felt right and peaceful. Our pastor did a great activity during her sermon. In the community where my church is...there have been 4 deaths of teenagers in the past year. It's just been heartbreaking and devastating. So, she created an allegory that shared the sacrifice of Jesus, but instead putting it in a high school classroom. She had the teacher hand out donuts to each student...but before they could have the donut, a designated "troubled" student had to do 10 pushups. The student did the pushups whether or not the person accepted the donut....that gift was there for the taking at any time. I thought it was such a beautiful image of the unconditional love of Jesus.
And here is my Easter Basket of candy...I probably will not eat. And of course, it is slightly Sox related, as is most everything in my life.
And that brings us to BASEBALL. I cannot express how excited I am for Opening Day...and against the Yankees no less. I wish I could be there in person, but watching it on TV will have to do. Someday I'll make it to the park for Opening Day, but I can't really complain since I will at the park on Tuesday for Game 2.
OPENING DAY. Josh Beckett vs. CC Sabathia. It's gonna be LEGEN....wait for it...DARY! The game starts at 8:05pm...and the minutes are just inching along. Me want baseball. Me want it NOW.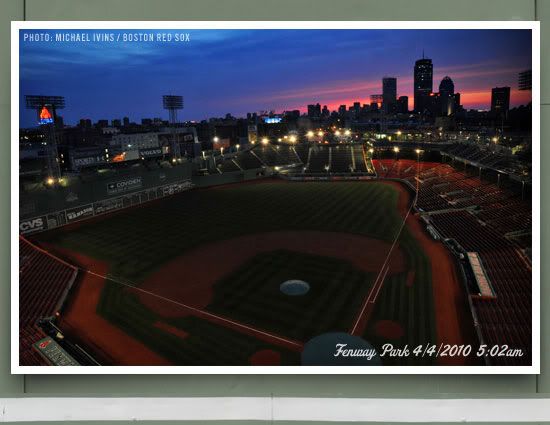 And God...I know I might have said I am prioritizing Josh Beckett over your one and only son...the Jesus, but umm...if you don't mind, I would greatly appreciate the weather report to continue to say NO RAIN in Boston on Tuesday. Thanks in advance.