whoo to the freakin' hoo!
So, any guesses as to what I was doing last night at 1:15am????
Sleeping? Nope.
Watching a kick @rse movie? Nope.
Watching the Red Sox win Game 1 of the series with the Angels?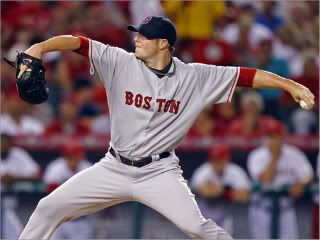 Yeppers!!! The game didn't start until 10pm EST since it was being played out in sunny CA...and so I started watching it, hoping I could make it to the end. It was a tense, nail biter of a game and the Sox won it 4-1.
Whoo hoo
for Jon Lester who is a pitching genius and showing people that he is more than just a last minute replacement for Josh Beckett.
Whoo hoo
for Jason Bay for hitting a 2 run homer to put the Sox on top.
Whoo hoo
for Jacoby Ellsbury for not only being cute as a button...but for getting on base FIVE times last night and making an awesome catch in center field in the 8th that made sure that the Angels didn't score a run and make a game of it.
Whoo hoo
for Jonathan Papelbon for closing the game with that same intensity he always has in October.
It was a great game. Only problem...it was then 1:15am...and my body was chuck full of adrenaline, which makes falling right to sleep not so easy. I had to watch a good deal of crap tv in order to make my eyes all sleepy.
So, yeah...I am a tired kid this morning, but it was WELL worth it!!! One game down, 2 more to go! I'll be sending the Red Sox all the luck I have that they can take Game 2 and head back home to Boston up 2 games to none.
Let's Go RED SOX!